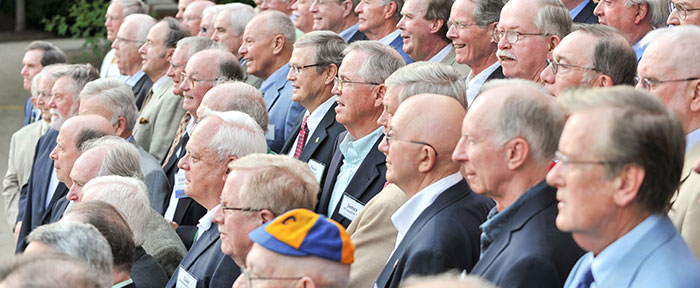 Magis Legacy Society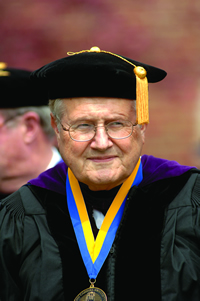 Magis Legacy Society
The man behind the Magis Society
Vincent M. Panichi '57 founded the Magis Society 25 years ago in 1988 to encourage support of John Carroll University through planned or estate gifts.
"Magis means 'more - to do more.' When we started the Magis Society, we simply sent out a quarterly newsletter to alumni—in their 50s or older—and asked them to respond with a phone call or postcard, if they wanted information about making a planned gift—usually as bequests, annuities, or insurance policies. As more people participated, that attracted the attention of others," says Panichi, who graduated from JCU's School of Business with a degree in accountancy. He also has an MBA and completed the course and examination requirements for a Ph.D. in accountancy.
"We had a few seminars with speakers, but people mostly wanted to meet and ask what was happening at JCU and with the Jesuits, in particular. This place wouldn't be the same without them!" he adds.
The 2007 JCU Alumni Medal honoree wore many hats during his tenure with Carroll, including full-time accountancy professor from 1976-1987, (with eight years as department chair), and then as special assistant to the president (Rev. Thomas P. O'Malley, S.J.), chiefly as a fundraising advisor. In the latter role, Panichi started the Magis Society "because everyone (colleges and nonprofits) was raising money this way!" He also was a founding member of The Private Sector Group, precursor to JCU's current Entrepreneurs Association.
In 1973, while still working at JCU, Panichi started his accounting firm with fellow accountancy faculty member, Carl Monastra, and one of his former students, Chuck Ciuni '68. In the years since, the firm has hired many other John Carroll alumni.
"Carl left the firm in 1980, but Chuck stayed on and I told him he could put his name first on the door!" says Panichi, who was the firm's first managing partner. His specialty was mergers and acquisitions and corporate financing.
Panichi officially retired from the firm in 1999, but continues to see clients. He also is a regular at Magis events at John Carroll and encourages others to get involved as Magis begins its next quarter century. "We know everyone can't make million dollar gifts, but we should all do what we can to support Jesuit Catholic education for future generations."
He and his wife, Laura, celebrated their 50th wedding anniversary in early September. Their two sons are both JCU alums, Michael '89 and Christopher '91, as is Chris's wife, Julie '03G. The Panichis also are the very proud grandparents of six, the eldest of whom is 12...just a few years away from prospective college visits!
An Invitation to Join the Magis Legacy Society
Members of the Magis Legacy Society have expressed their commitment to John Carroll University through a very special and important form of financial support.
These donors have named John Carroll as the beneficiary of a planned gift. Such gifts might include a bequest, appreciated securities, gifts of retirement accounts, gifts of life insurance and/or charitable income gifts, such as charitable gift annuities or charitable remainder unitrusts, charitable remainder annuity trusts.
Once you complete your estate plans, please fill out our member profile form to let us know. We would like to thank you for your generosity by including you in the Magis Legacy Society.
Membership Benefits
Your membership involves no dues, obligations, or solicitations, but it does allow us to thank you and recognize you for the plans you have made, and it may inspire generosity in others.
In recognition of your generosity, Magis Society members receive JCU updates and an annual mass and brunch. All members (unless you tell us otherwise) are recognized on this website. We want to publicly thank our most generous donors and inspire others.
The most important benefit you will receive from joining the Magis Legacy Society is the satisfaction derived from making a lasting contribution to our long-term success.